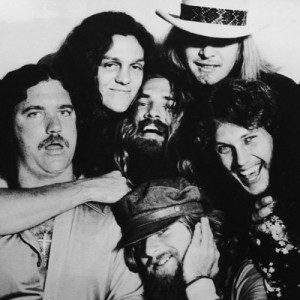 Cameron chats with Lynyrd Skynyrd for this 1976 piece for the L.A. Times. Happy Monday all.
Lynyrd Skynyrd: Hell on Wheels Puts On the Brakes
When Lynyrd Skynyrd finally broke into the top 10 last month with its fifth album, "One More From the Road," singer-founder Ronnie Van Zant could hardly wait to celebrate by canceling all future interviews. "The band doesn't owe anything to anybody," he declared happily. "Most of the media people, especially the press, have consistently portrayed us as either children or a bunch of rowdy drunks. That may or may not be true, but I know I'd much rather deal with the audiences that really put us here."
After 10 grueling years of almost constant touring, Dixie's Lynryd Skynyrd are anything but children. Their notoriously long record of pillage and arrest, however, does provide one thing. To the absolute delight of its hell-raising following, the band has boozed and brawled its way to top. But now, bolstered by the confidence that only long-sought success can bring, 27-year-old Van Zant is talking about changing that too.