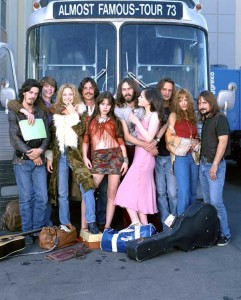 We are very excited to share Jim Miller's Origins Podcast Almost Famous Turns 20 series with you today. All five episodes are bingeable now! It's a candid in-depth look at all aspects of the film.
​
Episode 1 – Casting, Casting, Casting
Episode 2 – Cameron Crowe Unmasked
Episode 3 – Rock School & Pre-Preproduction
Episode 4 – On Set & On Location
Episode 5 – 20 Years!
In addition to Cameron, you will hear all new insights from Kate Hudson, Billy Crudup, Frances McDormand, Patrick Fugit, Jason Lee, Zooey Deschanel, Jimmy Fallon, Nancy Wilson, Peter Frampton, Neal Preston, Casting director Gail Levin and the real Pennie Lane!
There are many more Almost Famous surprises coming to celebrate the 20th anniversary. Stay tuned….