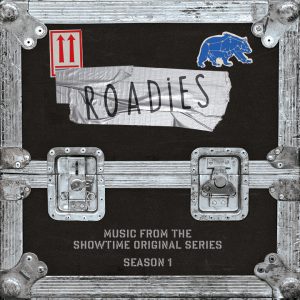 The final track listing for the Roadies Season 1 soundtrack is here! We think it represents a nice mix of the artists featured during the show and hope you'll like all the unique (and unreleased) versions. It will be available on CD and via iTunes on August 26th from Republic/StarDog Records. 
1. I Wish I Was Sober (Roadies Remix) – Frightened Rabbit ft. Mike McCready
2. Are You Satisfied? (Live) – Reignwolf
3. Big Love (Live) – Lindsey Buckingham
4. The First Time – My Morning Jacket
5. Born Again Teen (Live) – Lucius
6. Longest Days (Live) – John Mellencamp
7. Feeling OK (Live) – Best Coast
8. Simple Man (Live) – Machine Gun Kelly and Peter Cambor
9. You Don't Get Me High Anymore (Live) – Phantogram
10. All We Ever Knew (Live) – The Head And The Heart
11. They Are All In Love (Live) – Jim James
12. Sayonara Judge (Live) – Robyn Hitchcock
13. Willin' (Live) – Jackson Browne & Lucius ft. Greg Leisz
14. A Little Crazy (Live) – Nicole Atkins
15. The Healing (Live) – Gary Clark Jr.
16. Man of the Hour (Live) – Eddie Vedder