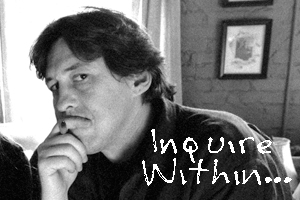 Welcome to another edition of Inquire Within… Through your submissions, Cameron will answer your questions in his own words.
Tony S.: Just wondering if there are any plans for a Blu-ray edition of Vanilla Sky?
Cameron: Thanks for the question, Tony.  The fact is that we've been hearing more and more about Vanilla Sky lately.  On our recent travels for We Bought A Zoo, there were a lot of questions about the movie, and a lot of passionate fans who wanted to discuss it.  It's fueled our desire here at Vinyl Films to start planning the Blu-ray, with a new commentary track, the original ending included, and a lot more Kurt Russell, Michael Shannon, and Tilda Swinton among other elements.   I think ultimately it will come down to  Paramount hearing from the fans, so feel free to write 'em and tell 'em you're  interested.  It feels like the time has come back around for the movie, which was certainly polarizing in the day, coming as it did right after 9/11…  but has now settled into its own psychedelic groove.  Certainly would be a joy for all of us to dive back in and pull out some of the rarities that were such a big part of the early cuts of "V Sky."   Tech support!!
Please send in your questions for Cameron and maybe yours will be part of a future installment of Inquire Within…