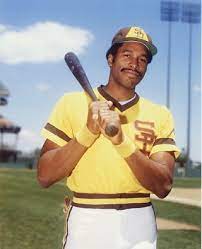 It's baseball season! Here's a great story recently in the LA Times about the long suffering San Diego Padres (plus a good excuse to share a picture of my favorite baseball of all time, Dave Winfield) with commentary by Cameron, Steve Garvey, Tony Gwynn and many more.
Steve Garvey couldn't help but notice the futuristic metal cubes. They ringed the presidential desk of McDonald's owner Ray Kroc, who had invited the Dodgers star to his hilltop home in La Jolla in hopes of convincing him to join his San Diego Padres. It was 1982, Time magazine had named the personal computer its Machine of the Year, and to Garvey, the glowing devices and their mystifying connection to the world at large was something out of "Blade Runner," which captivated audiences that summer.
"They looked like small black-and-white TV screens," recalled Garvey, so transfixed at the time that he walked around to Kroc's side of the desk to get a better view. "He told me he was minding the store, checking sales in North America and Europe. He was in his 80s, sitting there in his little golf cap, making the first big move in the history of the Padres organization, and he liked big moves."
Small screens, big vision. The guy who sold cheeseburgers for 19 cents and fries for a dime understood the monumental value of landing Garvey, the personification of Dodger Blue. Kroc dreamed of being an arch rival in the truest definition.