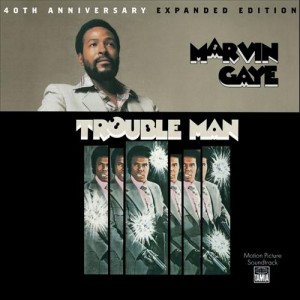 Four years ago, Cameron wrote the liner notes for the 40th Anniversary Expanded Edition of Marvin Gaye's Trouble Man soundtrack. Enjoy!
A quick snapshot of Marvin Gaye, May 1971: Sylmar, California. It's a rarely documented time in the artist's life. He'd just finished What's Going On, and hopped a flight from Detroit to Los Angeles to begin a co-starring role in an earnest film about a young Green Beret. He's 32, newly shorn of the iconic beard that would characterize his creative gestation. In the summer of '71, Marvin Gaye is an actor.
The film was not going swimmingly, the director uncommunicative with him, and Marvin was adrift in a world he'd known only as a fan, unaccustomed to set-politics, but ready to learn. It's no surprise where Gaye found a home—on the camera truck, helping with the film operators, being close to the artistic creation of the film's feel and look. Most of the camera crew was unaware of Gaye's recorded work.