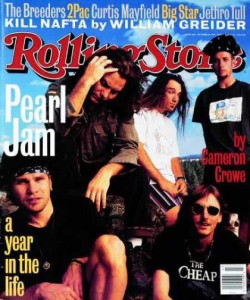 Happy Saturday. Thought it might be fun to look back on Cameron's Pearl Jam 1993 cover story for Rolling Stone. It was the band's first real in-depth interview just as Vs. was making its debut. There's an even longer version that we might share one day, but for now, check out the published version.
Five Against the World
Pearl Jam emerge from the strange daze of superstardom with a new album full of rage and warrior soul.
There are two Eddie Vedders. One is quiet, shy, barely audible when he speaks. Loving and loved in return. The other is tortured, a bitter realist, a man capable of pointing out injustice and waging that war on the home front, inside himself. On a warm and windy late-spring day in San Rafael, California, it's easy to see which Eddie Vedder is shooting baskets outside the Site, the recording studio where Pearl Jam are finishing their second album. It is tortured Eddie, the one with the deep crease between his eyebrows.
"Your shot," calls Jeff Ament, the group's bassist. He bounces the ball to Vedder, who takes a long outside jumper. It rattles into the basket and rolls away. By the time Ament retrieves the ball, Vedder has already disappeared into the studio. His mind is on a new song, "Rearviewmirror." This is the last day of recording at the Site, and the track's fate hangs in the balance. It's a song about suicide… but it's too "catchy."