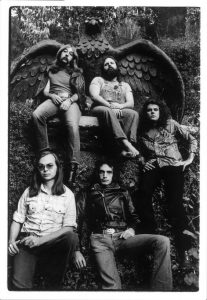 Happy Friday. We dug this out of the archives today as one last tribute to Walter Becker and Steely Dan. This short piece is from the February, 1973 issue of Zoo World as the band reflects on their new found success with their first hit single, "Do It Again" of their new record, Can't Buy A Thrill. 
Steely Dan
"Well, I imagine you've seen it," Steely Dan manager Gary McPike sighed as he withdrew a well-fingered, almost crumbling, clipping from that morning's Los Angeles Times.
It was a critical review of the band's recent appearance at the Whiskey. A quick scan revealed it wasn't as crippling a write-up as the concerned McPike's attitude may have implied. The music was fantastic, contended the reviewer, but the band's drab attire was inexcusable. This lack of showmanship, concluded the piece, revealed an inherent disregard for the audience.
"I like movement," remarked Wait Becker, the group's bassist and one half of their composing team, "and I'm all for the visual side of rock 'n roll, but the music is the most important thing. When the visual aspect gets in the way of the music. I'd rather forsake it."
It's not as if Steely Dan hides behind their sound equipment while performing their set, however. Lead singer, David Palmer, performs as spirited a set as anybody else, and the rest of the band does their share of bopping as well, but some people you just can't please.
"As far as that one review is concerned," added Donald Fagen, organist, sometime lead-vocalist, and the other half of the aforementioned writing duo, "I think the person who wrote it has an unusually high interest in men's fashions." Fagen pauses a moment to laugh, then continues, "I mean if a person is that disinterested in the music, I'd just as soon they go elsewhere."
Steely Dan is a new band. Emerging out of the ruins of several other bands that barely missed making it or just plain never did, (their present line-up (Jeff Baxter on guitar, Jim Hodder on drums, Becker on bass, Fagen on keyboards and Palmer on vocals) was settled upon as recently as last August. Their first dose of recognition came with an irresistible single by the name of "Do It Again." Steely Dan passed that first hurdle on their way to large scale success, which was a new experience for the former members of Jay And The Americans and Ultimate Spinach. So Steely Dan has reached a position in four months, most bands can't reach in years.
Perhaps most responsible for the group's following is the extremely accessible composing talents of Becker. Do It Again, according to the writers, was not intended to be a single. "In fact," Faqen-one of your more obvious New Yorkers – continues, "we didn't try to record or write any of our tunes catering to any particular market. But, as it turns out. I guess we're just naturally commercial."
Can't Buy A Thrill, Steely Dan's impressive debut album, looks like it'll produce several more hit 45's before the band's follow-up Lp hits the stands in a couple months. But, the question appears to be, does the group intend to be a singles band or an albums band.
"Both…I hope," Becker responds. "We try to make every cut as good as we can, not really thinking whether it's adaptable to AM or not."
Needless to say, things have not always been on the up-and-up for the Becker-Fagen team. Writing together long before their involvement in Steely Dan, the two kept themselves alive for two years by playing in Jay And The Americans' back-up band.
"We worked about two weekends a month on that job," remembers Becker. "That paid the rent. The rest of the time we just hung out, wrote songs and threw them out the window. Our publishing company was actually non-existent, and we ended up writing songs for other people who never did them. We wrote some songs for Barbra Streisand…she actually did one of them, "I Mean To Shine." It's on her Barbra Streisand album. "We wrote songs for Dusty Springfield. I don't think she ever got to hear them. Then we wrote some non-pop songs that no one got to hear."
"Denny Doherty recorded one of our songs," Fagen mutters, "but the album it was on never got released. His contract had ended."
From there the two migrated down to Los Angeles from New York, where they met the other future members of Steely Dan, formed the band and began work on Can't Buy A Thrill.
With the fickleness of the record industry and it's audience being what it is, how does it feel, you may be wondering, to be in the depths of frustration one day and be topping the charts and accepting superlative praise the next. How does it change an artist's life? Donald Fagen and Walter Becker can only speak for themselves.
"Well," begins Fagen, "I used to have a lot more leisure time…like all the time…"
"As for me," Becker interrups in a bored monotone, "I gained twenty pounds."
Courtesy of Zoo World – Cameron Crowe – February 3, 1973