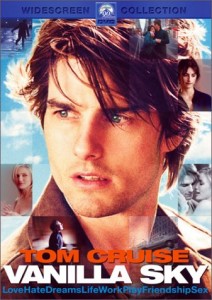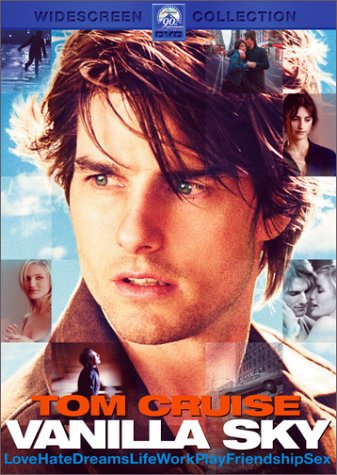 I talked to the powers that be at Vinyl Films to get more specifics about the May 21st release of the Vanilla Sky DVD. As usual, we're in for a treat. First up the audio commentary will again be venturing into new territory. The track will be primarily Crowe with some interspersed comments from Tom Cruise and Nancy Wilson, but that's not the big news. During the running commentary, Nancy will be providing "live" musical accompaniment as she plays tunes on her guitar! Very cool! In addition, Cameron will call up people who worked on the movie and see if anyone's home. I'm told this track is his best yet!
Here's some more information about the two featurettes which will be included. The first one entitled "Prelude To A Dream" runs about 6 1/2 minutes and is really a montage of the entire Vanilla Sky process. You'll see glimpses of the script being worked on, rehearsal footage, wardrobe, behind the scenes, etc. This was edited by Vinyl Film's guru Scott Martin and should be great.
The other featurette "Hitting It Hard" is a 9 1/2 minute look at Cameron's world wide press tour (with Tom Cruise and Penelope Cruz). The big news here is that they are also working on a longer version of this (60 – 90 minutes) which should hopefully see a release in a year or so. There was a very short window for the gang to cull everything they wanted for the DVD and it just couldn't happen. With a May 21st release, they really only had a few months to get it ready, so we can look forward to a separate DVD release of additional things (such as the longer "Hitting It Hard", deleted scenes, etc.) ala The Matrix Revisited or possibly in a Super Duper 2 Disc Special Edition (like the Untitled DVD). Be patient, this will get done when it's done, so don't expect anything for awhile (like 12 – 24 months). The Photo Gallery will include an audio introduction from Neal Preston and should include some 200 images. Lastly, Cameron was very involved with the DVD Artwork and is very happy with the final cover. Again, what a year for Cameron Crowe DVD's. But there's more….