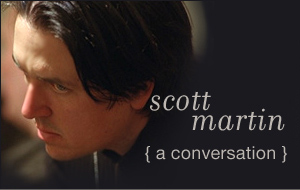 There's a wonderfully informative interview with Vinyl Films' Scott Martin over at The Living Jarboe. He talks about job responsibilities as Associate Producer, his integral role in relation to music for the film (and during the shoot) and his involvement with the DVD's. It's a fascinating piece, so please give it a look.  The entire interview is available below:
On a January 2001 day that began at dawn and ended long after the sun had gone down, I was an invited guest on the set of Vanilla Sky at Paramount Studios. There, I had the fascinating experience of participating in the filming of a "party scene" which included three of the stars of the movie. I also had the distinct privilege of observing director Cameron Crowe as well as Scott Martin in his professional duties as associate producer.
JARBOE : How long have you worked in film production in Hollywood?
SCOTT MARTIN: I've been working in film or television since 1993, initially as a production assistant, then as an executive assistant and finally as an associate producer for Cameron Crowe, with whom I continue to work.
JARBOE : Tell me about your work for the film, Vanilla Sky. You are credited as Associate Producer. What does this entail?
SCOTT : This is a question I get asked constantly, "What the hell do you actually do?" People, especially my family, get very upset that I have a hard time defining it at any given time. I work with Cameron Crowe, who writes, directs and produces. My job is to assist him in any and every way I can. Something very tangible I produced last year was a DVD called Untitled. We were working on Vanilla Sky at the same time and Cameron had hardly any time to devote to the creation of the DVD, unless it directly involved his creative input, such as the audio commentary. So I took on the responsibility of shepherding that while he focused on the movie at hand. At the same time, I was helping Cameron with casting decisions, editorial decisions and day to day production problems, depending where we were in the process. Cameron has final cut and final say in every single decision regarding the movie, but he uses me as a sounding board to help work through problems. We have now done Jerry Maguire, Almost Famous, and Vanilla Sky together, so I feel like I can contribute an opinion that honors his directing style and is best for the film. Also, I bring a lot of music into the fold. We play music on the set, during takes or between takes to help motivate the actors, or establish a mood. Cameron and I collaborate on that. We have very different tastes in music, so we are able to cover a lot of ground. He used to tour with Zeppelin and The Who and I used to skate to Swans records and Bowie's Low. It's an interesting musical partnership that has, sort of, organically developed between the two of us. That's why we can have a soundtrack like Vanilla Sky that contains artists from Sigur Ros to Rundgren to Leftfield.