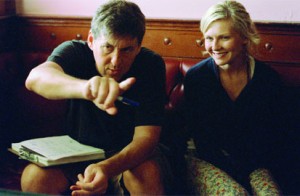 Cameron's September and October journals have been added. Look for additional journal entries very soon!
September 1, 2004
John Wayne Airport, Orange County. Haven't been here since we filmed Jerry and Dorothy swinging Ray in "Jerry Maguire." It's a good luck place, and the site for our long airport scene with the Baylor family. We're shooting nights, and everybody is a little wobbly as we finish about five in the morning. I like airports, maybe that's why they pop up in my movies so much. Sometimes I'll sit in an airport when I'm not even traveling, just to people watch, and imagine the lives going by, most of them people at some sort of an important juncture in their lives. The John Wayne airport hasn't allowed filming since 9/11, so it's a big deal that we're here. It's also only available to us for one day, so we need to stay on schedule. We do, ending with a crane shot done at five in the morning.
September, 2, 2004
We've moved to night shooting at the L.A. Convention Center, which will double as the Portland Airport. It's a tough lighting job. I mean, it's not easy to duplicate the timeless hermetically sealed world of an airport. The environment in airports is just as specific as Las Vegas, it's modeled to be a place apart from everyday life, a comfortable weigh station for people to pass through. Lighting is very specific in airports and it takes hours to adapt this cavernous space to look like what it now is.
Somewhere around two in the morning, we're visited by a legend. Filmmaker/Cinematographer Haskell Wexler (father of soundman Jeff Wexler) shows up to shoot a few scenes for a documentary he's making called "The Long Hours." Wexler has just finished a film with John Sayles, and his list of credits goes back decades, including documentary and feature filming as well as directing ("Medium Cool"). His civil rights documentary making in the early sixties includes much of the Martin Luther King film that we see today, for example the "I Have A Dream" speech. Wexler has a glow about him, and nearby his proud son watches him, admiring "Pop"'s visit to our set. Wexler's documentary started out being about film crews who work extended hours (as opposed to foreign crews who work on strict ten to twelve hour schedules), and then the focus expanded to also become about the American obsession with overwork. The film is filled with stories about workers who spent too many long hours, and seen what the effect is. (He's here largely to get some night shots of trucks moving out) Wexler's theme is similar to mine, in an odd way. Drew and his father never connected enough because of their work schedules. Now, in death, he learns what was denied him in life. Anyway, Haskell has worked with much of our crew over the years, and at 82, spry and razor sharp, he infuses the set with energy. "You have the best crew in the business," he tells me. I already know it. Wexler shoots some footage of operator Scott Sakamoto, and a little bit of John Toll, and then leans over to me. "I got my shot," he says with a twinkle, "did you get yours?" I ask him about Dr. King, and tell him of our visit to the Lorraine. We admirably discuss his son, who Wexler tells me turned down work to make himself available for this movie. I already knew it, and told him I've written about Jeff on this website. Haskell, if you're reading this, it was a pleasure to meet you. And yes, I got my shot too.
September 10, 2004
Orlando will fly to Toronto for the film festival premiere of his film, "Haven." Dunst has her own premiere of "Wimbledown" on Monday night. The pressures and demands of both actors' previous movies are bearing down on them, and our own schedule will adapt the way (we hope) their next movies will later adapt to "E-Town." This is the agreement that movies all have with each other, that's the price of movies costing so much… the promotion is part of the job.
I watch dailies from scenes I'd filmed last week, a lot of stuff featuring Susan Sarandon. Watching it, I'm thrilled. She and Judy Greer are a great team, funny and deep, and they look so much like mother and daughter. They bring out greatness in each other. Some scenes go beyond what they seemed like on the day, some don't. This stuff has magic to it. I can feel the story of the movie in all their shots. The week that started late and ended early, ends on a high note. And somehow it feels like our longest week yet. Every movie has its rhythm. This one feels very personal, exhausting and surprising, with uncharted territory popping up to the left and right every day, ever idiosyncratic, like a family, and especially like the one this movie is about. Good night for now. We'll crank it up again on Monday, and see where the winds take us. Oddly, as others are flagging and some are even dropping, I feel stronger than ever. Coming up is the ballroom sequence, one of the most delicate in the movie. It's all big sequences, from here on in. But hey – we STARTED OUT with a big funeral sequence. We'll just do it, and the adrenalin will be our partner here on the second-half of our "E-Town" shoot.
More than ever, it feels like a movie about fathers and the powerful need for guidance and direction. That's the job of the movie director. You are expected to not just be the creative guide but a steady weather vane to point the way to everybody else. Being a father figure to my script and to the cast and crew is sometimes a burden, but always an honor. Fuck the exhaustion. This is life, this is how it feels. Funny. I feel like Mitch.
September 12, 2004
Back on the airplane, and so begins a full week of pretty delicate dialogue and, as Billy Wilder might have said, "the romantic comedy business." The romantic comedy in this movie is pretty deep-tissue stuff. Most of the so-called jokes will come from the indiosyncracies of the characters, and for all that to work, we have to be working on real specifics like the way they laugh and look away or sigh or just plain behave. This is the sequence where we'll come to know the characters. My dream – it's always the dream – is that the characters become like real people and we all feel like we're a fly on the wall watching. If we do our jobs right, it will all look invisible. We have two days to finish out the entire sequence, and it will be tight. Happily, KD is in full force, and Orlando is ready to rock. We move through a lot of dialogue, and a lot of shots… this is the extended meeting of our characters. Everything has to be right. We finish Kirsten early so she can go to the premiere of "Wimbledon." I really have to make movies more quickly. When I first auditioned Kirsten, she hadn't even started this movie. Now it's already just about out, and we're still filming.
September 14, 2004
Today marks the first close-up for another one of our main actors – Mitch. We shoot the scene where Drew receives his father's ashes in an urn, and the urn will now serve as a character in the movie. Mitch has a lot of love on this movie. The urn, which we of course call Mitch, travels with his own roadie – our prop woman Maureen, who carefully polishes and arranges the urn – and in his own backpack. He arrives on set with no small fanfare, and after a take, Maureen sweeps him away for safe keeping. We worked hard on finding just the right urn for Mitch. I love the one we chose. It's fun filming Mitch today. He's a good actor, he looks good on screen, and he works fast. Only one or two takes, and he's always complex, with a lot of power. We all love Mitch.
September 16, 2004
The actors for the maybe-we'll-get-to-it scene start to arrive. It's the return of Bruce McGill, and the mighty Jed Rees, and as McGill says, "how about this ensemble you've got… " I only hope I can get to the scene. We still have more stuff to shoot on the big sequence with KD and OB. But we move through it, and it's good stuff, and I suddenly find that a mini-coda to the scene, three shots on the leads, are unnecessary. The dialogue plays better off Mitch. And on the momentum of that discovery and the completion of the majority of the scene with Kirsten and Orlando, comes another breakthrough. Ana Maria Quintana, my trusted script supervisor, convinces me to try and come up with a way to do the final scene in a single shot. After a minute of total dismissal, comes daylight. She's right. I go to John Toll and suggest it. He just about jumps out of his skin with happiness. Within minutes, we've ordered a crane and we've planned a way to shoot a scene with four actors and an empty ballroom in one creeping, sweeping shot that ends on a close-up of Orlando. ("it's like our gap ad," says Orlando, and it's an apt reminder of how all this started a couple years ago.) What a way to end the week of shooting. We nail it, and everybody goes home on schedule. Kirsten wishes us good luck, and wings to England for more promotion of "Wimbledown." I have a great conversation with Orlando as the evening ends. It's been a ball-buster of a week, and as he accurately says, with eyes flashing and an eagerness that we'll need, "we'll remember this forever." He's right.
Watching dailies with John Toll at the end of the long day, another revelation arrives along with the shots from yesterday. Mitch has arrived as a full-bodied, very much alive character. I suspect that he'll be commanding a lot of the scenes from now to the end of the movie. Mitch. In an urn.
September 29. 2004
More reaction shots of the crowd members. I am loving these shots, rich portraits of all our main characters sitting together. To me, it's a glimpse of the heart of the movie, and everything the characters say and do in the story comes to a peak during this Memorial. Each reaction shot is a mini-banquet, and I so enjoy working with Bruce McGill in shaping what his Bill Banyon characters says and does. Though the part in the script is brief but memorable, it was always rich with opportunity to grow during the filming. We'd promised ourselves to "play jazz" and let the Banyon character grow. McGill is one of the finest and most-employed character actors of the last twenty years. He knows how to enhance scenes, improv, or just do the lines. Often he waits until the "lead" actors have already done their scenes. Sometimes the character actor has only one or two takes to get their scenes right. McGill is one of the all-time best, and working with him is hugely creative, like we're both in theatre shop. And when I see him strolling around the set, waiting to film his scenes, the adrenalin always races inside. He's a writer's delight. And as he says, the waiting doesn't bother him. "I'm like a great light in the toolbox," he says, "and when you pull me out, it's my job to shine brightly, whenever I'm needed." I think he said it better than that, but it's a fairly faithful appropriation. I love Bruce McGill. Plus, as those on the set whisper when he passes, "he played D-Day in Animal House."
It's one of the fun aspects of a big character movie. Some characters sprout wings and fly, and you find yourself adding more and more things for them to do. Others fade into the background. It's a little like life in that way, a good party is always a matter of throwing people together and seeing what happens. Some people leave early, some surprise you, some embarrass themselves, and some pass out and sleep in the living room overnight. In large and small ways, all our characters are creating their lives within the movie. This is the scene that will shape how they end up in the movie.
October 1, 2004
Everyone is tired, but energized from the work at the ballroom. It feels like it will be a great sequence in the movie, something that we shape the entire picture to accommodate. But the message is clear – don't work the crew too hard today. Many had stayed until 1 am, clearing water-soaked equipment from the L.A. Center Stage where the ballroom had served us so well. Now we're a long drive out to Alta Dena to film the "Chapel Scene" where Drew is led to face many of the relatives he will come to know so well in the course of the movie. There are only eight shots, but it's a combination of a come-down from all the work in the ballroom, an anti-climax day that makes those eight shots take almost the entire allotted day to film. Orlando does well.
October 5, 2004
Our first day at Aunt Dora's, and it immediately feels great. I play music to establish rhythm and pace, and it works. All our characters at lined up in the kitchen, with Paula Deen appropriately presiding as the great Aunt Dora. I love these Kentucky characters, and I've written hopefully rich backstories for all of them. Before we film, I go around the kitchen and explain these details to the actors, and we all decipher who's related to who, and who's a cousin and who's not, until we realize – in life, this stuff is never fully worked out, so let's take this conversation into the movie. So in the movie, it will never be truly clear who's related to who and why, but the knowledge that roots are intertwined is enough.
The bigger goal is to not descend to any easy stereotypes. William Eggleston, the photographer, once said his whole life was dedicated to a "war against the obvious." That is the cause at hand… to show these Kentucky characters as real people, with real complexity and emotion, uniquely their own, as we work in this beautifully appointed house in Pasadena.
Russ Marlowe, the public relations man for the Veterans of Bardstown, Kentucky, is with us. I met him in the airport in Louisville, and videoed him early in the scouting process for the movie. He was wearing a veteran's hat filled with pins, standing with a buddy with a similar hat reading: Elizabethtown. I'd interviewed them on camera, and never forgot how Russ could talk movingly and in great chunks, about the veterans and the causes of the veterans and great restaurants and the delights of Bardstown, all in one long screed. I'd asked Don Lee to fly him in for the sequence and immediately I can see my instincts are right. The guy is a talker, and a natural on camera. We throw him into the mix here in the kitchen, and it's the straw that stirs the drink. Paula Deen is a natural too, of course, and watching her command a kitchen in our movie is like watching Bruce Springsteen play the Stone Poney in Asbury Park – iconic.
October 7, 2004
Tonight we move into the backyard for the shooting of the night-time section of the Aunt Dora's visitation party. The goal is to capture the mood of a Southern summer night. "We are talking about summer nights in the south" is how James Agee's great book, "A Death in the Family," starts. This is what I want to capture on film. We go to work setting the scene and positioning the extras and the principal actors. Ana Maria, an ace at building background for scenes, works hard to help me capture the ambience, and she raises the bar for sure. Shane, who plays the Starstuck Shoe Fan who pesters Drew throughout the party, is on fire. Drew is hilarious with him. The party, in feel and tone, reminds me of the "Say Anything" graduation party. That's a good sign.
October 11, 2004
My God, this will be a huge week. We have two days left to finish a mountain of work here at the Aunt Dora's location. There's a slew of chairs on the front lawn of this Pasadena house that has come so much to feel like Kentucky. All the chairs are filled with actors who've come to flesh out their vivid lives, and they're all waiting for their final round of scenes. I have to work fast or I'll have to cut a scene or two, and I can't. Every line of the script, every action means something, and to miss a beat will mean a price we pay later in the editing room. So we work fast, and get through a big scene in the Dining Room where Bruce McGill, Paul Schneider, Paula Deen, my mom as Aunt Lena, Loudon Wainwright, Gailard Sartain and Orlando all plan the Memorial that we've already shot. The scene goes well, and just as with almost every other scene, there's no time to reflect, just time to race into the next scene, block it, rehearse it and shoot it. Adrenalin – where would we be without it?
October 13, 2004
A big day looms as we wrap most of the Aunt Dora's ensemble, and then move over to Jessie's house. It's a brutal day for the crew, and by lunchtime, it already feels like a sleepy Friday… but we lurch into a second wind and film two of the important Jessie and Drew scenes. They're good together, and their camaraderie is important. I also love the Kentucky culture that has seeped into Jessie's scenes – a young man's love of Bourbon and horse racing and Derby glasses and rock.. It's a very real, very regional, very soulful mix. I love Jessie and I love his house. We end the day on a scene of the spooky summer weather scratching and rattling the windows of the room where Drew is trying to sleep. The whole crew is enlisted, making spooky noises, carrying trees, running by the window and howling, as Orlando rolls restlessly in bed. As one crew member said, "even when you have a lot of money to make a movie, it always reverts at some point to film school basics."
October 15, 2004
We move to Hollywood where we're going to film Claire walking through the airport terminals, talking to Drew on her way home. I love these shots, they're big and active and quick… just our girl Kirsten blasting through the shots, talking cheerfully on the phone to this suicidal guy.
I always get superstitious when an actor gets time off, and then returns to the part they've been filming. There are so many distractions, particularly in L.A., and you're never quite sure what all the distractions might have done to the delicate head of steam you might have already built up on a characterization. Clearly, I worry too much, because Kirsten shows up in her airline uniform and is instantly Claire. She is dependable and durable and loves to shoot and shoot and try different things. Her Claire is a joy to watch, a blast of life energy that will consume and save our troubled hero.
We finish the night, and week, and the movie now moves to Orange County, and the world of Jessica Biel and Alec Baldwin and Mercury Shoes. Biel is here today to show her makeup and wardrobe (she looks amazing). She too has taken some time off to make herself available for this smallish but important part. I keep thanking her for doing it. I love her comic gifts, as I've written in this journal before. And to those who think they know her talents, they will surely see more of them when they see her in the role as Orlando's first girlfriend Ellen. Clay Griffith shows up to show photos of the Mercury Shoes location in Orange County – a Japanese "lifestyle" company that he's outfitted and changed the colors of and completely re-imagined as a Portland citadel of shoes and fashion. Clay is peaking as a talent, and he will be peaking for years to come. (Curtis Hanson has already hired him for his next movie). It's a glimpse of where the movie, and all of us are heading…
It will be a good weekend, and a chance to take a breather before the home stretch – a week of shooting in the stark world that begins "Elizabethtown," the world Orlando fails in and retreats from before getting the harrowing news that he must go to Kentucky to deal with the death of his father.
October 18, 2004
We begin at Mercury with Drew's arrival by helicopter – the beginning sequence of the movie. Orlando arrives and immediately sets the tone for this important stretch of scenes. It'll put the whole movie in play, whatever he does, and the small knot in my stomach eases… even disappears… as we see Bloom bring all the hideous complexity of his failure into his first shot. It's also meant to be funny, of course, and we've learned to play this hideousness in an absolutely real way. His pain will be funny, if we do our jobs right… but Orlando seems to immediately know that his body language, the tautness of his face and the stiffness of his walk will mean a lot. It's a perfectly grey day, too, which is one of many in our long line of lucky breaks. It's the perfect weather for a company guillotining.
October 25, 2004
We are back at Mercury Shoes, and typically there's a long list of scenes and shots to be gotten. This is also the week of Alec Baldwin, and he arrives on set early to show me his character's wardrobe – jeans, tennis shoes and a tan leather sport jacket. He looks like a troubled billionaire who has just flown in from Telluride. It's perfect. Our last new character has arrived on set. Alec is immediately funny, in rhythm with the movie, and happy to be here. We film the last sequence in his long walk through Mercury – it's a long monologue that goes through four different locations. He's alternately powerful, angry, loving, musing… all different shades of emotions, and when we turn around on Drew, Orlando is in top form. We continue filming with the second sequence, another scene with the two men that happens over a large "think tank" of employees. With the shot on his back, Baldwin improvises ten different hilarious scenarios and alternate versions of the dialogue, all so that it will be fresh when the camera is on their faces. He's spectacular and so is Orlando. I'd love to do a movie with Baldwin in every scene.
October 26, 2004
We move to SOKA University, a Buddhist-based college in Orange County. It's a full day of shooting here in Phil's office, the former school library. Fans from the college have left notes on the office desk for Orlando. One expresses goodwill, another expresses goodwill and also asks for a large-flat-screen television. Orlando's mom is also on the set, and she's a wonderful presence, a real supporter of her son. She sits next to her son in massage chairs that have randomly been moved from the outer room into a side room where we watch the monitors. The two of them together are hilarious, and for a moment it feels like a glimpse of what the Bloom living room looked like in his childhood. It's a full day of shooting in Phil's office, and introductory scene for Alec Baldwin's character. The sequence begins his important run in the movie. His actions reverberate through the rest of the script. His office is even a touch gothic, it's perfect for his character, a powerful CEO who is about to experience a huge fiasco because of Drew's creation.