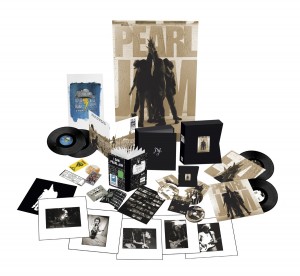 This is amazing news! My two favorite things combining forces. Here's an excerpt from the press release.
Ten, the debut album that sold 12 million copies and introduced the world to Pearl Jam in 1991, will be reissued in four (4) new and expanded editions. Pre-orders of the Super Deluxe Edition begin today, through the Ten Club at PearlJam.com. All four editions will be available for purchase on March 24, 2009. The reissue of Ten serves as the launch of a planned two-year catalogue re-release campaign leading up to the band's 20th anniversary in 2011.
Each Ten package will include two versions of the album: the remastered version of the original album PLUS an accompanying remixed version done by the band's long-time producer, Brendan O'Brien (Bruce Springsteen, AC/DC, Audioslave). Details on specific extras for each of the four packages are listed below.
"The band loved the original mix of Ten, but were also interested in what it would sound like if I were to deconstruct and remix it," says producer Brendan O'Brien. "The original Ten sound is what millions of people bought, dug and loved, so I was initially hesitant to mess around with that. After years of persistent nudging from the band, I was able to wrap my head around the idea of offering it as a companion piece to the original – giving a fresh take on it, a more direct sound."
TEN RE-DESIGN
Pearl Jam bassist Jeff Ament, who served as the art director for the original Ten packaging, reprised his role for the reissues collaborating with designer, Andy Fischer, of Cameron Crowe's Vinyl Films (Into the Wild soundtrack LP, Vanilla Sky soundtrack LP, Harold and Maude anniversary edition soundtrack LP).
"The goal was to assemble the ultimate fan-piece," explains Fischer. "Something Pearl Jam lovers could pore over as they experience an indelible record all over again, in an entirely new way."
"The original concept was about really being together as a group and entering into the world of music as a true band…a sort of all-for-one deal," says Jeff Ament. "There were some elements of the original Ten artwork that didn't turn out the way we had hoped, due to time constraints. With this reissue, we've been able to take our time and invest resources into making the design the way we had originally intended."
Check out all the details and pics over at Pearl Jam's official site!
This entry was posted on Saturday, December 13th, 2008 at 3:08 pm and is filed under News. You can f