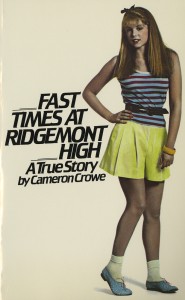 The Crowe's Nest is a feature that collects random tidbits, etc. in one blog post. So let's get started!
First off, glad you all enjoyed the Say Anything… deleted scenes. Don't forget that we've already posted some Jerry Maguire and Singles deleted scenes.
The Bookfinder has released their 100 Most Sought After Out of Print in 2011 and the Fast Times at Ridgemont High book is ranked at #16. As we've previously discussed, Cameron owns the rights to the book, but has no plans to re-release the book at this time. Keep looking for a copy at your local thrift store, used book store or at a garage sale!
Cameron chats with Matt Singer over at IFC. The first interview focuses on We Bought A Zoo, Matt Damon and the holiday release date. Part 2 revolves around the Say Anything… sequel (that we've previously covered) and Part 3 highlights Jónsi, the music of Zoo and future film plans.