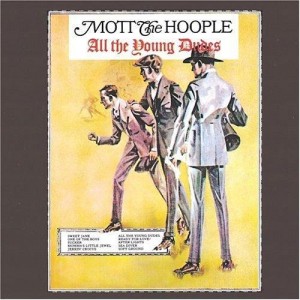 Mott The Hoople – All the Young Dudes
Released in England several weeks ago and yet to be made available in the States is Mott The Hoople's fourth album, All the Young Dudes, named after the incredible single of the same name.
Produced and arranged by David Bowie, All the Young Dudes fails to live up to the excitement of the title cut…a very English, very metal, very riske ode to homosexual rape. "I've been wanting to do this for years", admits the aggressor, lead-singer Ian Hunter as the cut fades into either "Sucker" or a label depending upon whether it's the single or the LP. Despite its overly decadent theme, "All the Young Dudes" is very simply the best single since "Take It Easy" graced the airwaves.
The album opens with the theme song of Bowie's musical idol, Lou Reed (who, by the way, is letting David produce his next album), "Sweet Jane". A quite limp delivery on Hunter's part and a plodding accompaniment courtesy of the boys in the band provides for a soggy indication of what's to come. The rest of the record follows fairly closely the impact (or lack of it) of the previous. The recording job is very  clinical and exacting, a habit which suits Bowie's own style but reveals a major flaw in Mott The Hoople's, who is best displayed in a somewhat reckless light.
But it's a fun record. The material is lyrically dependant on tongue-in-cheek for its effect, and Bowie, in his production debut is impressively meticulous. Too bad that the intricate arranging and direction was utilized by a group who just can't benefit from it.
Courtesy of the Door (aka San Diego Door) – Cameron Crowe –  November 4, 1972  – November 18, 1972