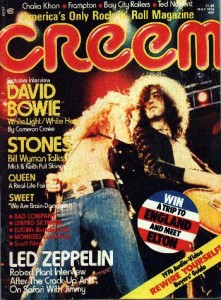 Happy Friday. Here's a new addition to the site today, Cameron's interview with David Bowie from the May, 1976 issue of Creem magazine. We hope you like it.!
Space Face Changes The Station
David Bowie Pulls A Lazarus
Andy Kent is one of the most important freelance photographers in the music business. At 28, his well matched wardrobe, trimmed hair and full beard give the look of a successful young businessman. Which he is.
Yet, after six years of shooting almost every L.A. concert, Andy's motivation has long since transcended fandom. It is now a job. He and his partner Neal usually flip coins over who has to shoot a local performance. The winner gets to stay home.
It's been two weeks since the beginning of David Bowie's 1976 worldwide concert blitz, of which Andy Kent is official tour photographer. These days, he is a changed man. Gone is the apathy of someone who has seen a loud rock and roll band a few hundred times too many. Now Andy feverishly scans the radio for Bowie records. He speaks constantly of the man's genius. He arrives at Bowie's show hours before they begin. He helps the band choose their on-stage attire. He discusses and critiques the set every night with Bowie. Andy feels important. "I told David the other night," he reports, "that I haven't worked this hard in years. I really feed off his energy."
Andy Kent is only one of a thirty-nine person entourage that is powered by the same blind devotion to David Bowie. It is not hard to become totally drawn in by the man – he has a special talent for making all those around him feel as if they are, indeed, most crucial to his vision. Yet, in the end, Bowie has them all on salary. Ever since his costly (millions were lost) split with ex-manager Tony De Fries, he manages and owns himself entirely.
This is Bowie's first tour since that incident. Likewise, the current stage show is a virtual one-man tour de force. There are no sets, costumes, glitter or dancers. For the first time in years, it's just David.