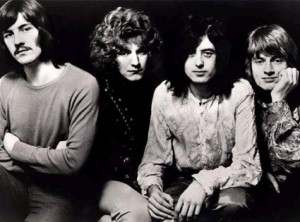 Cameron gets the scoop on Led Zeppelin's latest album, Presence. This August, 1976 story is brand new to the site and marks our 251st article/interview in the Journalism section. Happy Monday!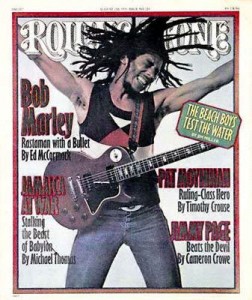 Zeppelin Rising . . . Slowly
Jimmy Page tells how Led Zep turned an accident into an album: 'We started screaming and never stopped'
Los Angeles – Had singer Robert Plant's sedan not slammed into a tree on the Greek island of Rhodes, shattering his ankle and all the bone supporting his left leg, Led Zeppelin would surely have dwarfed all touring competition is golden rock & roll summer. But Plant, who is not one to perform from a chair, is still months away from complete recovery. Until that day, the band even Elton John calls "the world's biggest act in music" is stilled.
Presence, Zeppelin's seventh and latest album, remains one of the best-selling albums of the year, even without benefit of a tour, a single or even a photo of the band. A film of the band in concert, The Song Remains the Same, is set for release this fall. All this at a time when most heavy-metal heroes have either tempered their approach or died an unsuspecting death. Such is the enigma of Led Zeppelin.
Jimmy Page, the band's guitarist and mentor, was on a working vacation in Los Angeles with Plant, drummer John "Bonzo" Bonham, manager Peter Grant and various members of Bad Company. Page was keeping a low profile. His easy pace of writing, relaxing and supervising a band called Detective, the newest act on Led Zep's Swan Song label, was interrupted by only one nightclub visit – to the Roxy for Doctor Feelgood – and one interview.
Dressed in his usual cowboy shirt and unfaded denims, Page settled down before his Beverly Hilton television to watch Mohammed Ali have at it with Britain's Richard "Durable" Dunn. He was feeling no guilt for the comparative lethargy: over the past few months he had finished two soundtracks, one for The Song Remains the Same and the other for Kenneth Anger's Lucifer Rising.
More even than fellow former Yardbirds Jeff Beck and Eric Clapton, Jimmy Page has proven the most consistently successful of the British superstar guitarists. He is easily the most mysterious. Page stopped giving regular interviews long ago, in retaliation to Zeppelin's negative critical reception in 1969. And after all the years on the road, the countless tales of debauchery, drugs and even satanic worship, Page still wears the untroubled baby face he was born with; associates innocently refer to him as "Young James." At 33, he looks like a frail, anemic 18-year-old. (He does, in fact, have a bad chest and coughs frequently. "It runs in my family," he says. "My father only has one lung.") "I'm not about to deny any of the stories," Page teases. "I'm no fool; I know how much the mystique matters. Why should I blow it now?"
One person who recently attempted to shed some light on the Page/Zeppelin phenomenon was rock publicist and unofficial biographer Ritchie Yorke. Drawing primarily from an interview with Page in Zig Zag and his own conversations with Atlantic Records executive and occasional Zeppelin touring buddy Phil Carson, Yorke pieced together a rather thin account called The Led Zeppelin Biography (Two Continents/Methuen).
"It's a laugh, really." Page had finished the paperback just a day earlier. "You know, Robert, Bonzo, Jonsey [bassist/keyboard player John Paul Jones] and I have a special sort of thing going between us. It would be nice to have a book out, a good job, that explained us in a way other than the music. This book, though, is a classic case of someone abusing their access to us."
Plant's accident, added Page, was another test of loyalty for those around the band. Zeppelin had a mini-tour set to begin two weeks later. "It was just so apparent," Page sighed, "who are real friends were. If the tour had happened, everybody would have been 100% behind us. As things occurred, Robert's situation was painful and traumatic. He was never sure, until just recently, if he'd ever be able to be active on it again. So all our energies went directly toward that. Nothing else mattered. You'd be surprised how quickly people move along to less turbulent waters."
How upset was Page by the tour's cancellation? "I was pissed off that I wasn't there when he had the accident," he fired back. "That's all. I really wanted to go to Rhodes along with Robert and his family, but I had to be in London for another day to work on the film. I couldn't cancel out, so I stayed on.
"My child, too, was in the car. That was never publicized. Jesus . . . you never know what's around the corner. That accident was a tremendous ordeal. Robert and I had paced ourselves toward that tour together. We always do that before our tours. This time, it was totally severed. Besides that, for months and months, Robert just didn't know what would happen to him. Dare I say, his willpower carried him through. Even the doctor couldn't believe it. I could have never done it.
"I've had accidents in the past [Jimmy broke a wrist toward the end of Zeppelin's '73 tour and a finger several days before their '75 tour], but it was always 'Am I gonna fuck the whole group up?' This was something where we just didn't know what the long-term effects were gonna be. I mean, we could only rethink our future as best we could and hope for the best. There was never any thought of splitting up."
The Scream Begins
In the process of rethinking the future, Zeppelin and manager Peter Grant immediately ruled out using Plant's recuperation period as time off, even for Robert. "The whole danger to a period like that is doing nothing . . . and taking a long holiday till things are better. We decided to keep our minds active and concentrate on what was starting to become our labor of labors – studio work – rather than go breezing off here and there."
As soon as Plant became mobile, Zeppelin uprooted and moved to Malibu Colony, the sunny coastal suburb of Los Angeles. The band wrote and rehearsed for five weeks, then jetted to Musicland Studios in Munich for three weeks in the studio. Then intended to get some "rough ideas." They got Presence.
Page, speaking for the entire band, is not at all bothered that the album was done on not much more than a whim. "I think," he stated firmly, "it's the most perfect statement a group could make. All our urgency and pent-up passion is there more than ever, that's why there's no acoustic stuff on the album. The mechanism was just perfectly oiled this time. We started screaming in rehearsals and never stopped. Munich is my favorite place in the world and I went out one night while we were there. Every other waking hour was spent in the studio. "For Your Life" was made up there, right on the spot. So was "Hots On for Nowhere" . . . and the structure for "Achilles Last Stand." I really wanted the façade of a Gothic building for that one. I had that exactly in mind. You know, one of those huge buildings that has layers of tracery and statues and more tracery, each one a different mood. There's was no going away and thinking about this album, so I just dove in and built that track piece by piece and . . . whoa." Page smacked a fist into his palm. "I got it in . . . " his eyes widen, "one night."
In another 14-hour storming session, Page recorded every solo on the album. "If you think about it, working in that short a time, guitar solos can become very clichéd – before you know it. If only because your mind is in a certain biorhythm. You're caught up in the same curve." Page ignored a ringing telephone. "In the past, I'd always . . . this was the thing with Physical Graffiti . . . I would put a bunch of solos on the first month, then some more on the second and a few more on the third and so forth. You're obviously gonna have a totally different feel each month. The one night I recorded my solos, it was getting near the end of our booked month. I was exhausted and worried about how strong each solo had to be. I do not, at any cost, want to be repetitious either. And on top of that, I'm really insecure about my guitar playing, especially the solos. I never let anybody in the studio when I'm doing them.
"I learned a lesson. I'm at my best when I'm exhausted and under pressure. We're sitting here talking now, awake and spinning off on other things around the room . . . the TV, whatever. But when you're tired and under the gun, all you want to know is what you have to have done. Nothing else bothers you. So I got very intense about it and, remembering that I couldn't duplicate any phrasings from other LPs – did it. The solos are good. I've never had that coloring before, I don't think. I haven't heard myself play like on Presence before."
At one point, however, the entire project almost capsized. Several days after he began to walk again, Plant, dragging a massive cast, tripped and fell. "He was just going outside the studio for a piss," said Page. "There were cables all around and sure enough, his good foot caught on one and he fell right on the cast. I heard this tremendous crack. I rushed over to him, terrified. After all he'd gone through in his head, he was just starting to get his confidence again. He turned out to be all right, though. Just a close call."
The Object Rising
Presence was finished before Christmas of last year. In true Zeppelin tradition, the artwork delayed the album's release by more than four months. Hypgnosis, the British graphics company that had designed packages for Audience, Peter Frampton and Bad Company among many others, eventually came up with the idea of The Object.  "I was talking with them," Page remembered, "and one guy said, 'You know, when I think about Led Zeppelin, I always think about a powerful force. The fact that four people can create such an effect . . . there's definitely a presence there.' That was it. He came up with The Object . . . and even wanted to call the album Obelisk, but I held out for Presence. You think about more than just a symbol that way."
Filmmaker/author Kenneth Anger was also attracted to Zeppelin's "force." Upon meeting at an auction, he and Page discovered a mutual fascination with Aleister Crowley, the renowned satanist and so-called "most evil man to have ever lived." Several years ago, Page even bought Crowley's home near Loch Ness, Scotland ("No, I haven't seen the monster, but it's definitely there"); legend has it the house is possessed by demons. Anger was impressed and later asked Jimmy to furnish the soundtrack to Lucifer Rising; Page recorded a menacing dirgelike guitar piece to accompany the film.
"I do not worship the devil," Page declared. "But magic does intrigue me. Magic of all kinds. I bought Crowley's house to go up and write in. The thing is, I just never get up that way. Friends live there now."
The Song Remains the Same is a bit more conventional. It's mainly a '73 Madison Square Garden concert filmed over two nights, on one of which the band's hotel safe deposit was robbed of $180,000. The title comes from a track on Houses of the Holy, then the most recent Led Zeppelin album. There will be a soundtrack album, too, the band's first live LP.
"It doesn't bother me that the concert is dated," Page said. "We couldn't have made a later film without going well into the Eighties with the release day. The onstage stuff is still hot. Plus, we have four fantasy sequences, one for each member. There's lots of backstage stuff as well. With the quad setup, it should be quite interesting."
After seven years, Jimmy radiates the feeling he couldn't be more proud of Led Zeppelin. "Robert got up and sang on-stage the other night [with Bad Company at the Los Angeles Forum] and that proved to him he could still move the way he wanted. That's only ten minutes, however, not three hours. We can't get cocky. I don't want to find that after a week he's in total agony. Nevertheless, if he pace him . . . I reckon we'll be back on the road by next year. Easy."
Just about that moment, Ali made his triumphant entrance into the ring for The Main Event. Page couldn't contain himself any longer. "Enough of this. Let's watch the fight. All work and no play makes Jack a very dull boy."