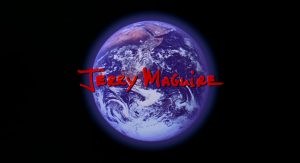 We are back with Part 2 of the Complete Guide to Jerry Maguire Filming Locations. Let's dig in!
Cushman's House – (Morehart Mercantile, 9016 Mupu Road, Santa Paula)
"You know, I told myself, 'He shows up, we stick with him.'" – Matt Cushman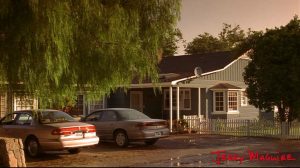 Matt Cushman (Beau Bridges), whose word is stronger than oak, makes a verbal agreement to keep Jerry as his son Frank's agent while in the living room of his Odessa, Texas ranch house. Filming actually took place at a home on the sprawling grounds of Morehart Mercantile, a feed and farm supply company in Santa Paula.
Jerry, Ray and Dorothy's Airport Goodbye – Terminal A Entrance, John Wayne Airport (18601 North Airport Way, Santa Ana)
"Jerry, do you know the human head weighs eight pounds?" – Ray Boyd
 Dorothy and Ray drop Jerry off at the airport before the NFL Draft outside of the entrance to Terminal A at the John Wayne Airport. While there, Dorothy fondly watches a father say goodbye to his wife and young son.
Airport Gate – Terminal 6, Los Angeles International Airport (600 World Way, Westchester)
"No, I am not Hootie." – Rod Tidwell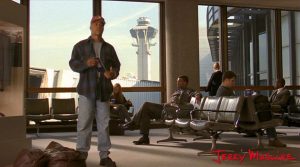 Jerry, Rod and Cush meet up en route to the NFL draft at what is supposed to be the Hartsfield-Jackson Atlanta International Airport. While there, some young boys approach Rod for an autograph, mistakenly thinking he is Darius Rucker from Hootie & the Blowfish. The scene was not actually lensed in the Peach State, but at Terminal 6 of the Los Angeles International Airport. A replica of the suit Martin Luther King Jr. wore during his meeting with Lyndon B. Johnson, which has been on display at ATL since the 1980s, was created for the scene in exacting detail by production designer Clay Griffith. It is visible just to the left of Rod in the above screen capture.
New York Marriott Marquis – The L.A. Hotel Downtown (333 South Figueroa Street, downtown Los Angeles)
"Rod, you know what was great about you down there? For about five minutes you unloaded that rather large chip that resides right there on your shoulder and, you know what? You let people in – and you were brilliant." – Jerry Maguire
Jerry, Rod and Cush attend the NFL Draft not at the Marriott Marquis in Times Square as was stated in the movie, but at what was then the Sheraton Grande in downtown Los Angeles. The exterior, lobby, and mezzanine level of the upscale property, which became the L.A. Hotel Downtown in 2012, were heavily dressed with Marriott Marquis signage, convention booths, and football memorabilia for the draft segments, but are still largely recognizable. Don't go looking for the gift shop or Cush's hotel suite there, though. Those scenes were shot at Sony on sets built on Stage 21 and 22, respectively. The ballroom where Jerry and his goddess-of-rock-climbing fiancé Avery Bishop (Kelly Preston) break up can't be found there, either . . .
Avery and Jerry's Break Up – International Ballroom, Hilton Los Angeles Airport (5711 West Century Blvd. Westchester)
"I won't let you hurt me, Jerry. I'm too strong for you. Loser!" – Avery Bishop
Though Jerry unceremoniously dumps Avery while at the NFL Draft, the scene was not shot at the L.A. Hotel Downtown where the other Draft segments were lensed, but in the International Ballroom at the Hilton Los Angeles Airport. Avery does not take the break-up well – "No one has ever dumped me!" – and repays Jerry with several uppercuts to the face and a knee to the groin. Imagine if he had gotten her the ring she really wanted! Howard Stern's Artie Lang makes a cameo in this scene, but it was cut from the theatrical version. It will be included as an extended scene on the 20th Anniversary Blu-ray! Unfortunately, the International Ballroom has been remodeled significantly in recent years and no longer resembles its onscreen self.
United Airlines Club Room – TWA Ambassadors Club, Los Angeles International Airport (Terminal 3, 300 World Way, Westchester)
"See this jacket I'm wearing? You like it? Cause I don't really need it because I am cloaked in failure!" – Jerry Maguire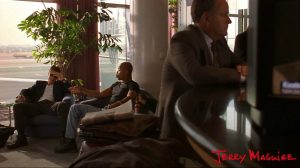 The TWA Ambassadors Club in Terminal 3 of LAX was dressed to look like a United Airlines Red Carpet Club for the scene in which Jerry drowns his sorrows over losing both Cush and Avery during the Draft. The lounge was also utilized for the short segment at the beginning of the movie in which Calvin Nack (Brent Barry) won't sign an autograph for a little boy. Today, the Ambassadors Club space houses the Virgin America Loft at LAX.
Arizona Cardinals Training Facility (8701 South Hardy Drive, Tempe, Arizona)
 "These are the ABCs of me, baby!" – Rod Tidwell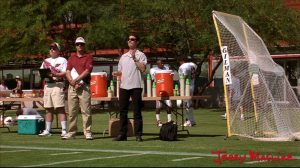 Jerry watches a rather mediocre practice of Rod's – and attempts to discuss Rod's contract with Dennis – while on the western field of the Arizona Cardinals Training Facility in Tempe, Arizona. The property's locker room and bathroom were also utilized for the famous "Help me help you" sequence in which Jerry explains the hardships of his job ("It is an up-at-dawn, pride-swallowing siege that I will never fully tell you about, OK?") while Rod "air dries." Sadly, that area of the site was gutted as part of a remodel in early 2015. The Arizona Cardinals Training Facility was also used during a few of the movie's game sequences and was where Rod received medical treatment towards the end of the film.
The Crocodile – Moody's (333 South Figueroa Street, downtown L.A.)
"Meet me at the Crocodile, 8 o'clock." – Dennis Wilburn
Though Tempe did boast a popular hangout known as the Crocodile Café in the '90s, filming of the scene in which Dennis stands Jerry up was not actually shot there. Instead, an eatery named Moody's located just off the lobby of the Sheraton Grande (now the L.A. Hotel Downtown) was utilized for the shoot. While the wood-paneled space has been shuttered for several years, it remains intact and still looks much the same as it did onscreen. You can see some more images of it here.
Jerry and Dorothy's First Date – Paco's Tacos (4141 South Centinela Avenue, Del Rey)
"You wanna go out to dinner?" – Jerry Maguire
For their first date, Jerry and Dorothy head to Del Rey staple Paco's Tacos where the two enjoy a romantic meal of Mexican fare set to the tune of a Mariachi version of "Words Get in the Way." Little of the property's décor has changed since filming took place twenty years ago. Even the brightly-colored fish tank that Dorothy and Jerry sat next to still looks the same as it did onscreen. Nearly everything on the menu at the decades-old Paco's is made fresh daily on the premises, including the tortillas which patrons can watch being sculpted by hand. The popular restaurant also popped up several times on the 1970s television series CHiPs.
Rod's Camel Chevrolet Commercial Shoot – Lost Dutchman State Park (6109 North Apache Trail, Apache Junction, Arizona)
 "I didn't shoplift the pootie! Alright, I shoplifted the pootie." – Jerry Maguire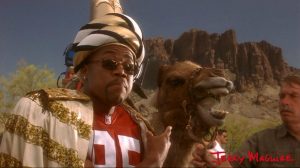 Rod attempts to film a Camel Chevrolet commercial with an actual camel and then schools Jerry on the art of dating a single woman while at the base of the Superstition Mountains at the incredibly picturesque Lost Dutchman State Park. The 320-acre site was named after the Lost Dutchman's Gold Mine and is a popular camping and hiking area, as well as a popular filming location, having also appeared in the 1987 comedy Raising Arizona.
Veterans Stadium Press Box – Stage 21, Sony Studios (10202 West Washington Boulevard, Culver City) 
"Loser!" – Avery Boyd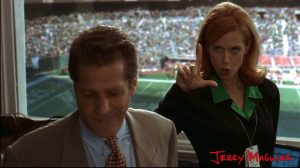 Avery flashes Jerry the loser sign while in the press box of what is supposed to be Veterans Stadium in Philadelphia during one of Rod's games. The box was actually a set, though, built at Sony on Stage 21.
Veterans Stadium Exterior – Los Angeles Memorial Coliseum (3911 South Figueroa Street, Exposition Park)
"Not everyone has what you have." – Jerry Maguire
Rod and Jerry share a heart-to-heart (which doesn't end well) outside of Veterans Stadium after Rod's game against the Philadelphia Eagles. Filming actually took place near the entrance to Gate 5 at the Los Angeles Memorial Coliseum, though. The Coliseum was used for several sequences in Jerry Maguire, including the scene in which Jerry is shown swimming underwater (that bit was shot at the property's LA84 Foundation/John C. Argue Swim Stadium), the segment in which Sugar tries to poach Rod before the big game at the end of the movie, and the aforementioned scene from the opening montage in which Cush tosses footballs in "Odessa, Texas."
Restaurant Where Marci Goes into Labor – Reel Inn (1220 3rd Street, Santa Monica)
"I hate you going to the movies alone without me." – Rod Tidwell
A lunch date with Rod and Jerry and their families at the Reel Inn on the Santa Monica Promenade ends abruptly when Marcee Tidwell (Regina King) unexpectedly goes into labor. Sadly, the fish restaurant has since closed and today is an American Apparel store. The only aspect of the space that remains recognizable is its open ceiling and exposed ductwork. The Reel Inn's sister eatery in Malibu remains a local staple, though, as it has been since it first opened in 1986.
Jerry and Avery's Airport Encounter – Tom Bradley International Terminal, Los Angeles International Airport (1 World Way, Westchester)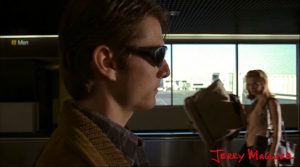 In a scene that was shot as an homage to the opening of The Graduate, Jerry and Avery pass each other while traveling in opposite directions on a moving walkway at the Tom Bradley International Terminal at LAX.
Cardinals/Cowboys Game – Sun Devil Stadium (500 East Veterans Way, Tempe, Arizona)
 "No, no, no. No, wait, wait. Just – just let me enjoy this for a minute." – Rod Tidwell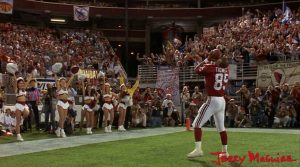 Jerry Maguire's climactic final game was lensed at Sun Devil Stadium in Tempe, Arizona. The thrilling segment, in which Jerry finally gets Rod to dance, was shot during an actual Cardinals/Cowboys football game. The scene in the hallway outside of the locker room following Rod's big moment was also shot at Sun Devil Stadium, as was the segment in which Jerry runs to the field to get to Rod after his injury. The press box and football announcers sequences were not shot on location at the arena, though, but were sets built on Stage 21 at Sony.
The Up Close Show – Stage 8, Sony Studios (10202 West Washington Boulevard, Culver City)
"Jerry Maguire, my agent – you are my ambassador of kwan, man!" – Rod Tidwell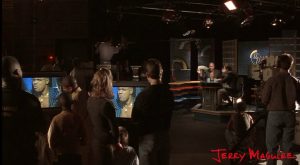 Though Rod vows not to shed a tear while being interviewed by Roy Firestone (who played himself) on Up Close, he winds up wailing after receiving the news of his new $11.2-million/4-year offer from the Arizona Cardinals. Filming of the Up Close show scenes took place on Stage 8 at Sony Pictures Studios.
Ray Tosses a Ball to Little Leaguers – Pote Field (4730 Crystal Springs Drive, Griffith Park)
"Hey, I don't have all the answers. In life, to be honest, I've failed as much as I've succeeded. But I love my wife. I love my life. And I wish you my kind of success." – Dickie Fox
Jerry Maguire comes to a close at Pote Field in Griffith Park, where Ray impresses a group of Little League players – and Jerry – as he tosses back an errant ball before walking hand-in-hand with Jerry and Dorothy off into the sunset. An alternate ending, where Jerry takes Ray to the Zoo, will be featured on the 20th Anniversary Blu-Ray.