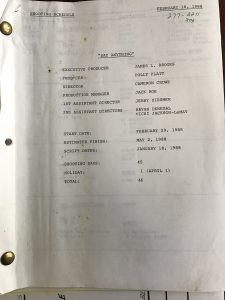 To celebrate today's anniversary for Say Anything…, I've teamed up once again with the amazing Lindsay Blake to revisit all the locations from the 1989 film. While some 2nd unit footage was filmed in Seattle, all the key locations were filmed in the Los Angeles area. Let's dive in!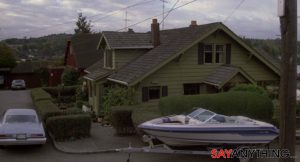 1. Corey Flood's House (2545 Ganesha Avenue, Altadena) – Though an establishing shot of a traditional two-story home at 3627 Northwest 65th Court in Seattle was used to portray the residence of Lloyd's gumptious BFF Corey Flood (Lili Taylor), all actual filming took place a good 1,100 miles away at a dwelling in Altadena.
2. Lloyd's Apartment (318 South Canyon Blvd #3, Monrovia) – The non-descript apartment building where Lloyd lives with his sister, Constance (who was played by Cusack's real life sister, Joan), and nephew, Jason (Glenn Walker Harris Jr.), is another San Gabriel Valley locale. The two-story complex can be found on a shady street in Monrovia, looking much the same today as it did onscreen 28 years ago. The actual interior of Unit #3, including the bathroom where Lloyd calls Diane for the first time, was utilized in the film.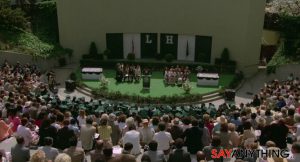 3. Lakewood High School Graduation – Santa Monica College Amphitheatre (1900 Pico Boulevard, Santa Monica) – The large amphitheater where Diane gives her famous "I've glimpsed our future and all I can say is, 'Go back!'" valedictorian speech is sadly no longer standing. Formerly located at Santa Monica College, the arena was razed in 2009 to make way for a student services building.
4. Post-Graduation Meet-Up – Lacy Park (1485 Virginia Road, San Marino) – Following the graduation ceremony, Lakewood High's Class of '88 gathers at San Marino's picturesque Lacy Park to take photos and greet loved ones. While there, James Court (John Mahoney) gifts Diane with a car and Corey snaps a down-low picture of Lloyd stealthily posing with an unaware Diane (film's first photo bomb?!). The sprawling park also pops up later in the movie in the montage scene in which Diane and Lloyd walk, talk and kiss in the rain.
5. Diane's House (140 South Norton Avenue, Windsor Square) – Supposedly located in a Seattle suburb, the two-story dwelling where Diane and James live can be found in Windsor Square. Partial views of the exterior and the pad's real life interior – including the dining room, a bedroom, the living room and kitchen – were utilized in the shoot. Amazingly, this beautiful home has remained virtually untouched since filming took place. You can check out some photographs of it here.
6. Golden Seasons Retirement Home – Tierra del Sol (9919 Sunland Boulevard, Sunland) – Two different locations were used to represent Golden Seasons, the retirement home run by James. All exterior filming took place at Sunland's Tierra del Sol, a support and training center for disabled adults that was originally established in 1971. Though the organization's kitchen also appeared in the movie, all other interiors were shot at the now-defunct Scripps Home, an assisted living facility formerly located at 2212 El Molino Avenue in Altadena. While Tierra del Sol still looks much the same as it did in Say Anything . . ., Scripps Home was razed in 2008 and a new, larger senior housing project now stands in its place.
7. Vahlere's House (1686 Homewood Drive, Altadena) – Lloyd refuses to allow Diane to leave the country for her upcoming fellowship without attending Vahlere's (Eric Stoltz) "graduation thing," and, after quite a bit of prodding, she finally agrees to be his date. The raucous party was shot at a large 7-bedroom, 8-bath, 6,637-square-foot dwelling in Altadena. Both the interior and exterior of the property were featured in the movie.
8. Mike's House (4936 Sunnyslope Avenue, Sherman Oaks) – After driving around aimlessly for over three hours upon leaving the party, unwitting "key-master" Lloyd is finally able to drop off a very drunk and very lost Mike (Jason Gould, the son of Barbra Streisand's and Elliott Gould) at his home before continuing on with his date with Diane. Mike's house can be found on a quiet street in Sherman Oaks, markedly unchanged from its onscreen self. The later scene in which Diane breaks up with Lloyd in his Chevy Malibu ("dissed in the malibu!") was shot nearby.
9. 7-Eleven (11340 Magnolia Boulevard, North Hollywood) – The iconic moment in which Lloyd brushes glass out of Diane's path, subsequently melting the hearts of female moviegoers everywhere, was an added scene lensed months after initial filming wrapped. The romantic segment took place in the markedly unromantic parking lot of the 7-Eleven on Magnolia Boulevard in North Hollywood.
10. Cameron's Seafood (1978 East Colorado Boulevard, Pasadena) – Diane shares a rather awkward lunch with her mother at one of Pasadena's oldest eateries, the aptly named Cameron's Seafood, which was originally established in 1984. Little of the locale's ocean-themed décor has changed since the segment was shot.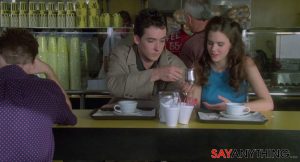 11. Flooky's (5200 Vineland Avenue, North Hollywood) – Lloyd and Diane agree to be "friends with potential" over coffee at Flooky's, a Valley chain that was founded in 1965. Outposts of the hot dog diner were once dotted all over L.A. and, while most are now shuttered, including the North Hollywood location where Say Anything . . . was filmed, nostalgic fans of the eatery can still grab a wiener at the Woodland Hills and Canoga Park sites.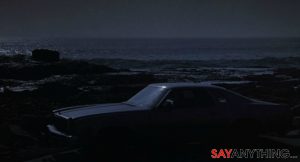 12. Diane and Lloyd Spend the Night Together – 20th Century Fox Studios (10201 West Pico Boulevard, Century City) – Thanks to a well-timed establishing shot of a Seattle-area beach, Diane and Lloyd seemingly consummate their relationship seaside in Lloyd's car. In truth, the scene was shot inside Stage 14 at Fox Studios. I always felt that James Cameron's sex scene in Titanic might have borrowed a few elements from this scene…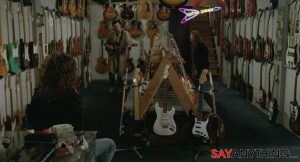 13. Guitar Garage – Voltage Guitars (1513 North Gardner Street, Hollywood) – Oh, Lloyd, don't you know you should never kiss and tell? But he does just that, informing his friends Corey and D.C. (Amy Brooks) about his dalliance with Diane while at a now defunct outpost of Voltage Guitars, Hollywood's oldest vintage guitar store, formerly located on North Gardner Street. Originally established in 1982 (ironically enough by a man named Lloyd), today the company is mainly an online business and the Gardner Street space is currently vacant.
14. Kick-Boxing Dojo (5223 Lankershim Boulevard, North Hollywood) – Lloyd doesn't want to "sell anything bought or processed, or buy anything sold or processed, or process anything sold, bought, or processed, or repair anything sold, bought, or processed." So he instead finds a job teaching kick-boxing to kids at a local "Seattle" dojo. Filming of the kick-boxing scenes took place at a real karate studio in North Hollywood. The site is something of a cinema stalwart, having also appeared as the Cobra Kai dojo in the 1984 classic The Karate Kid and its 1989 sequel, The Karate Kid III. An alternate scene in which Diane and Lloyd get back together supposedly outside of the dojo was actually shot a good 16 miles away at Library Park in South Pasadena. You can watch that segment, as well as many other deleted, extended and alternate scenes, on the Say Anything…DVD and 20th Anniversary Edition Blu-ray.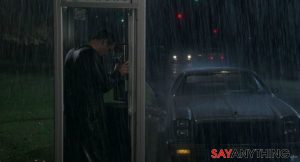 15. Lloyd Calls His Sister (Fern Dell Drive, Griffith Park) – After Diane breaks up with him, a heartbroken Lloyd pulls over to make a call to his sister from a phone booth situated on a rainy stretch of sidewalk. The oft-quoted scene ("She gave me a pen. I gave her my heart and she gave me a pen.") was a re-shoot lensed after principal filming had wrapped at the southern end of Fern Dell Drive, just north of Los Feliz Boulevard, in Griffith Park. The rain visible in the segment was manufactured and the phone booth was a prop, but Lloyd's conversation was real – he was actually speaking with his sister on the other end of the line while shooting the segment.
16. Gas N Sip – Retro Dairy Mart (4420 West Magnolia Boulevard in Burbank) – After his break-up with Diane, Lloyd seeks solace from some male friends (including an early Jeremy Piven performance) at the local Gas N Sip. The scene was actually shot in the parking lot of a 1962 Alta Dena Dairy outpost located in Burbank. The site, now a Retro Dairy Mart, recently found onscreen fame once again thanks to its appearance as Ryan Gosling's favorite breakfast spot in La La Land.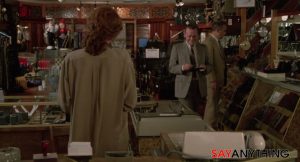 17. Wiener's Luggage at Westfield Fashion Square (14006 Riverside Drive, Sherman Oaks) – James attempts to purchase a suitcase set for his daughter, as well as hit on a saleswoman (spoiler – he's unsuccessful on both counts) at the Westfield Fashion Square outpost of the upscale luggage boutique Wiener's Luggage. Due to the IRS' investigation into his finances, James' credit cards are denied and he is forced to leave the shop sans suitcase – and his dignity. Today, the Wiener's space is home to a Sephora.
18. North Hollywood Park (11430 Chandler Boulevard, North Hollywood) – Lloyd serenades Diane by standing outside of her house with a boombox held high above his head playing Peter Gabriel's "In Your Eyes." This was initially shot on the street in front of the Court residence in Windsor Square, but Cameron was not happy with the footage. Fate later stepped in during the filming of the 7-Eleven scene when cinematographer László Kovács noticed a park across the street that he thought would be perfect for the boom box bit. With only a few minutes of daylight remaining, cast and crew rushed over to a tree-lined stretch of North Hollywood Park and did a quick re-shoot. Cameron loved the way it turned out, the footage made it into the final cut, and the rest is history.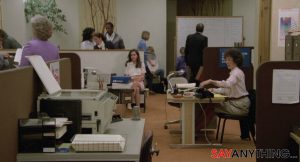 19. IRS Office – Design Center (433 South Spring Street, downtown Los Angeles) – After the IRS begins an investigation into James' business dealings, Diane heads to a field office to try to convince an agent of his innocence. Filming of the scene took place at the former Design Center, now Twin Springs, in downtown Los Angeles. Originally built in 1928 as the Title Insurance Building, today the Art Deco structure houses offices for major fashion companies and is used regularly for filming. You can check out some photos of its spectacular interior here.
20. Court Exterior – Spring Street Federal Courthouse (312 North Spring Street, downtown Los Angeles) – An establishing shot of L.A.'s Spring Street Federal Courthouse was used to represent the Seattle D.A.'s office where James' lawyer discussed his plea deal.   Only the exterior of the building was utilized. Interiors were shot at the Design Center, where the IRS scenes also took place.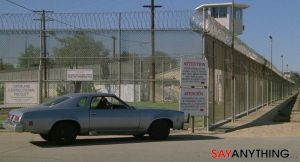 21. Spokane Correctional Facility – Mira Loma Detention Camp (Avenue I and 60th Street, Lancaster) – A since shuttered juvenile detention camp in Lancaster masked as the Spokane prison where James was incarcerated.The site was closed in 1990 upon the opening of the Challenger Memorial Youth Center and today is used as a training facility for the Los Angeles County Sherriff's Department.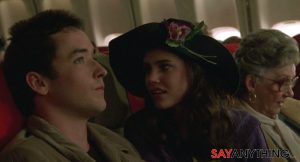 22. Stage 747, Universal Studios (100 Universal City Plaza, Universal City) – "When you hear that smoking sign go 'ding,' you know everything's gonna be OK." So says Lloyd to calm Diane while on their flight to London in the movie's final scene. The bit was shot at Universal Studio's former Stage 747, a large soundstage that once housed set versions of a 707 and 747 airplane. The space was converted to a workshop in 2002 and the plane mockups removed, but you can see some photos of what they formerly looked like here.