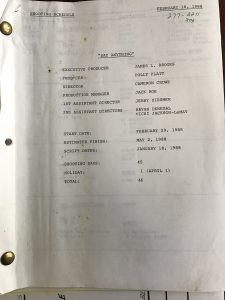 To celebrate today's anniversary for Say Anything…, I've teamed up once again with the amazing Lindsay Blake to revisit all the locations from the 1989 film. While some 2nd unit footage was filmed in Seattle, all the key locations were filmed in the Los Angeles area. Let's dive in!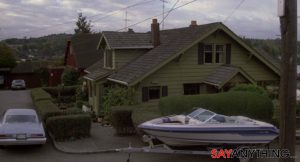 1. Corey Flood's House (2545 Ganesha Avenue, Altadena) – Though an establishing shot of a traditional two-story home at 3627 Northwest 65th Court in Seattle was used to portray the residence of Lloyd's gumptious BFF Corey Flood (Lili Taylor), all actual filming took place a good 1,100 miles away at a dwelling in Altadena.
2. Lloyd's Apartment (318 South Canyon Blvd #3, Monrovia) – The non-descript apartment building where Lloyd lives with his sister, Constance (who was played by Cusack's real life sister, Joan), and nephew, Jason (Glenn Walker Harris Jr.), is another San Gabriel Valley locale. The two-story complex can be found on a shady street in Monrovia, looking much the same today as it did onscreen 28 years ago. The actual interior of Unit #3, including the bathroom where Lloyd calls Diane for the first time, was utilized in the film.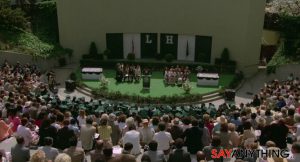 3. Lakewood High School Graduation – Santa Monica College Amphitheatre (1900 Pico Boulevard, Santa Monica) – The large amphitheater where Diane gives her famous "I've glimpsed our future and all I can say is, 'Go back!'" valedictorian speech is sadly no longer standing. Formerly located at Santa Monica College, the arena was razed in 2009 to make way for a student services building.