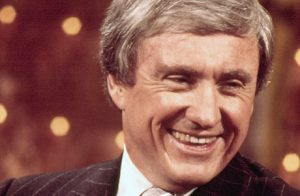 We thought it would be fun to wrap this Fast Times 35th anniversary celebration with this Spicoli scene that was not to be. In Cameron's book, Spicol's dream sequence occurs on The Tonight Show with Johnny Carson. After Johnny turned it down, it was written for Merv Griffin, Tom Snyder and finally David Letterman. All of them graciously turned it down for a variety of reasons (more here), so the scene was re-written as a surf competition interview with Stu Nahan. We thought you might like to read the Merv Griffin version. Enjoy!
DARKNESS
We are in the middle of a deep, dark void. After a
moment, a pinprick of light appears in the
distance. We head towards the light. We are being
led somewhere important.
As we draw still closer, curtains suddenly part to
reveal a wildly cheering studio audience. We hear
the voice of Merv Griffin.
MERV GRIFFIN (O.S.)
Will you please give a warm welcome
to… Jeff Spicoli!
The Merv Griffin Show band begins playing a Merv
Griffin Show version of AC/DC's "Highway to Hell".
Someone hands Jeff Spicoli a microphone. He works
the studio audience into a frenzy as he sings the
words to "Highway to Hell": Merv Griffin show
style.
SPICOLI
(singing)
'Layin' ladies!
Drinkin' wine!
You gotta dollar —
You're a friend of mine!
Gettin' loose!
Feelin' fine!
You and me — It's get down time!
We're on the Highway to Hell!
The Highway to Hell!'
Spicoli finishes up with a spectular pump. The
audience goes wild as Merv Griffin greets him
warmly, and guides Spicoli to his seat. Spicoli
motions for the cheers to die down. Griffin is
obviously happy to see him. He touches Spicoli's
arm lightly.
GRIFFIN
How've you been?
SPICOLI
Outrageous, Merv. Nice to be here.
I feel great.
GRIFFIN
I was going to say… your eyes
look a little red.
SPICOLI
I've been swimming, Merv.
The audience howls. It's a famous Spicoli line.
SPICOLI (CONT'D)
Seriously, Merv, everything is
great.
I was thinking about picking up
some hash this weekend, maybe going
up to the mountains.
GRIFFIN
(concerned)
I wanted to talk a little bit about
school, if I could…
SPICOLI
School.
(sighs)
School is no problem. All you have
to do is go to get the grades. And
if you know something, all you have
to do is go about half the time.
GRIFFIN
How often do you go?
SPICOLI
I don't go at all.
The audience is howling again. He is Merv's
favorite guest.
GRIFFIN
I hear you brought a film clip with
you. Do you want to set it up for
us?
SPICOLI
Well, it pretty much speaks for
itself. Peter, you want to run with
it?
EXT. A MASSIVE WAVE – DAY
The film clip begins. It is a mammoth wave cresting
against the blue sky.
SPICOLI (V.O.)
Merv, this is the action down at
Sunset Cliffs at about six in the
morning.
GRIFFIN (V.O.)
Fascinating.
A tiny figure appears at the foot of the wave.
GRIFFIN (CONT'D)
Who's that?
SPICOLI
That's me, Merv.
The audience gasps.
GRIFFIN (V.O.)
Are you going to ride that wave?
SPICOLI
Totally.
We watch as Spicoli catches the perfect wave, and
it hurtles him through a turquoise tube of water.
GRIFFIN
What's going through your mind
right here, Jeff? The danger of it
all?
SPICOLI
Merv, I'm thinking… I've only got
about four good hours of surfing
left before these little clowns
from junior high start showing up
with their boogie boards.
The audience is howling once again… when suddenly
we hear the loud noise of a door opening, followed
by a shrill voice. It is Spicoli's eight-year-old
brother, Curtis.
Jeff Spicoli's dream of glory evaporates.