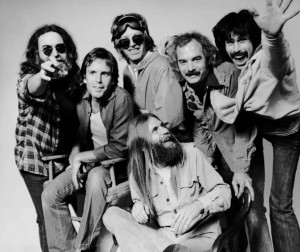 A great time to revisit with the final Grateful Dead concerts just wrapping up. Cameron ponders this question and more in an extensive interview with the Grateful Dead for Creem magazine. This January 1974 story gives a nice back history of the band and includes many candid comments from Jerry Garcia.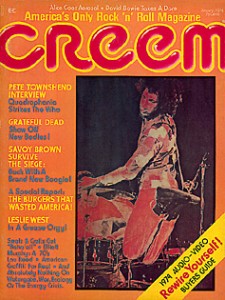 Grateful Dead Show Off New Bodies
Their heads are something else again…
There are over one million Dead Heads and your numbers keep increasing every day… – from THE DEAD HEAD NEWSLETTER, mailed out to all those who responded to a mailing address printed on the jacket of Grateful Dead.
Three frazzled red-freak winos spill out of a battered van parked outside the Universal City Amphitheatre and pause on the long trek to the entrance to piss away their Ripple on a shiny Nova. The sharp sound of three forceful gushes harmonizing against the side of the compact can be heard from some distance.
Having finished the deed, one of the trio groggily zips himself up and affectionately pats the car. "The Dead gonna be hot," he asserts before cutting loose with a hoarse yelp. AAAAAAAWWWWWWOOOOOOOOO." This wine-slurred call of the wild is immediately answered by a broadside of identically soporific shrieks from all directions.
Are these men Dead Heads?