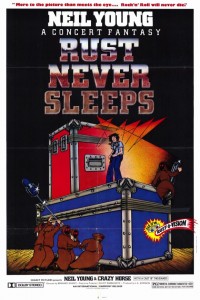 In anticipation of tonight's double feature screening of Neil Young's Human Highway and Rust Never Sleeps, Cameron spoke to the Huffington Post about those films and much more. Enjoy!
A Conversation with Cameron Crowe Mostly About Neil Young
Mike Ragogna: Cameron, on the surface, Human Highway can be a goofball comedy or a stoner flick. But I believe it's really a pretty dark commentary on nuclear power, war, and the mistreatment of Indigenous Nations. It's an amazing movie when you consider what it achieved.
Cameron Crowe: Very true. I loved being able to write about Neil Young for Rolling Stone, he was one of the artists I was able to follow through the years. He was often open to interviews, and always there to give me a peek behind the curtain on his many projects. I was invited to come and watch him direct Human Highway. He directed like he performed as a singer-songwriter: spontaneous but with a structure. It was so interesting to watch him translating that style into talking to and directing actors, some of them with storied careers in acting behind them. People like Russ Tamblyn and Dennis Hopper. They were all drawn into his directing spell, which was something of  a cross between "Cortez The Killer" and Howard Hawks. He was working with cinema, but still creating an atmosphere for intense creativity, not unlike what he does when he plays with Crazy Horse or any of his bands. He is a master of feel, and so it was on the set of Human Highway. He was at the peak of his post-Harvest powers.  Dennis Hopper was, I think, not at his zenith. Dennis was kind of on the ropes at the time–professionally and personally. I remember Neil Young had a checkbook around his neck, on a lanyard. I asked somebody, "Why does Neil have a checkbook around his neck?" and they said, "Because Dennis Hopper keeps asking him for money, and he said, 'What, do you think I got a checkbook hanging around my neck?'" [laughs] Ultimately, he gave in and got one to prove a point to Dennis Hopper.