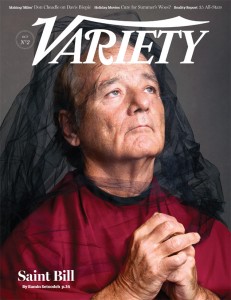 Cameron recently share a few anecdotes about Bill Murray for the latest issue of Variety (pictured above).
On the plot of the new film: Crowe: Murray plays the part of Carson Welch, a charmingly eccentric billionaire who runs a visionary company, Global One. He's a dynamic player on the world stage. Lately Welch has been launching rockets and satellites too. Defense contractor Brian Gilcrest (Bradley Cooper) is his former protege.
On how he landed Murray for the role: I was lucky. Emma Stone had remained good friends with Bill Murray since "Zombieland." It was Emma who first reached out and sent him a text. Did he want to join us in the fall, in Hawaii? Murray wrote back: "You. Hawaii. Crowe. Sounds interesting." We both jumped up and down for a very long time, and then tried not to get too excited. Of course the excitement only built. I sent him a script, a little music and some books about the world of the character. One night Bill Murray called back, and I missed the call. No return number. And then there was silence. My friends tortured me mercilessly for missing Bill Murray's call. (I picked up the phone hopefully, on the first ring, for weeks. Nothing.) Then came a text from Bill. And he'd sent one to Emma too. He had enjoyed some of the music I'd sent. I texted back immediately, and also asked a question about the young actor we were about to hire, Jaeden Lieberher. (Jaeden was also acting with Murray in "St. Vincent.") Murray was enthusiastic in his praise for Jaeden. We hired Jaeden. Hiring Murray would not be so easy. We attempted to engage with his lawyer, but those discussions faltered without official word that Murray was in fact really interested. Sony officials warned us to start looking elsewhere — it didn't look good. And then late one night came another text, not from Bill… but from young Jaeden. It read: "I just saw Bill at the wrap party. He told me to tell you, 'Don't listen to the suits. I'm coming to Hawaii. Aloha, Bill.'" And that's how we found out he was going to be in the movie. He told us through his 10 year-old co-star, who I immediately nicknamed "Bill Murray's Agent."
On Murray's process: He came to the set in Hawaii a few days before his part was to begin. No entourage, no big advance warning he was coming. He showed up and cased the joint, casually introducing himself to crew members. "Hi, I'm Bill." It felt like Miles Davis, checking out the club where he might jam later that night. Luckily, he stuck around. To me, he said this: "Just tell me what you want, I'll do my best to give it to you." He'd add inspired suggestions as we went, but mostly flowed with the other actors, who were constantly thrilled he was there. A total dream. He even studied local traditional hula dancers, posed for pictures with them, and learned to blow the conch shell too. Wild.
On why Murray connects with audiences: I think in movies and in life, without a lot of fanfare, he maintains an incredibly personal connection with his fans. I got a big lesson in this one day when we filmed a little scene on a ship. I walked behind Bill Murray, as he was leaving the ship. It was amazing to see life from his perspective… each time someone looked up casually, and realized it was Bill Murray, their faces registered a kind of joy jolt. The cumulative rush of several decades of classic films they'd gotten so much enjoyment from, all in a second. And then, 20 feet later, two security guys who knew he was near, started playing "Ghostbusters" on a boom box. Murray shouted out "Ray Parker Junior!" And then he danced with the security guards. That's the image I'll remember. That, and him rolling our DJ cart through the set, on a break, singing to everybody Linda Ronstadt's version of the Warren Zevon classic, "Poor Poor Pitiful Me." He also had an unerring sense of anyone on the set who was having a bad day, or was lost in dark thought. Suddenly they'd find Murray behind them, massaging their shoulders, urging them to cheer up. After his last shot on his last day, the crew and cast gave him a five-minute standing ovation. I asked him, "Does that always happen?" He said, "Not really. They're usually just happy when I leave." And he smiled. We both knew it was untrue.
Courtesy of Variety – Ramin Setoodeh – October 16, 2014