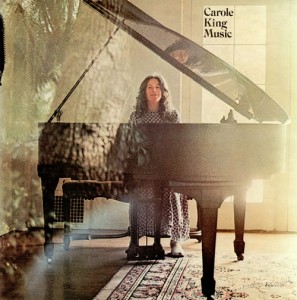 Carole King – Music (Ode SP 77013)

With the release of the new Carole King album, Music, she is in the same situation The Band was in with Stage Fright, Cat Stevens is in with Teaser and the Firecat, and James Taylor was in with the release of Mud Slide Slim. When an artist becomes a superstar on the basis of one album, the follow-up LP is always compared with it's predecessor. No matter how good the second album is, the majority of critics and buyers will criticize it as not "being as good."
If the artist has changed his style in any way, the buyers will be disappointed. If the artist has stayed the same, the critics will pan the album and him for not evolving musically. So, Carole King can't please everybody in Music.
Writer, her first album, was an experimental one. She switched from style to style, the result being an amateur recording with the exceptions of "Child of Mine" and "Up on the Roof," which made it hard to believe that these were from the same album as the disasters "Spaceship Races" and "To Love."
Tapestry, one of the most successful albums in recording history, was Carole King after she found her strength. Her jumpy piano work and the bubbling guitar of James Taylor seemed to make a combination that pleased both undergrounder and Sixteen Magazine devourers alike.
Music, however, isn't a carbon copy of this successful style. For the new album, Miss King has employed the same group of musicians that has accompanied her throughout her previous albums: James Taylor and Danny "Kootch" Kortchmar on lead guitars, her husband, Charley Larkey, on bass, and Russ Kunkel on drums. So, what we hear on the new album is not only the musical evolvement of Carole King, but of the accompanists as well.
Eight of the album's ten tunes were written by Miss King solely. In the past, she has collaborated with Gerry Goffin and, more recently, Toni Stern (who wrote three songs for the album), but these are the first lyrics that she has written by herself.
My favorite cut is the trivial "Brighter." These changes are really first rate and the up-tempo arrangement couldn't be more efficient. Although the song is obviously for the purpose of filling up the LP and achieving the quota for playing time, there is something about it that cries out for more than the skimpy 2:50 that is devoted to it.
The changes in Carole King's style with this new album are minor. Her stuttering piano work has been replaced by a more continuous flowing sound. Her strained voice has matured in a short time to a smoother style.
The simple arrangements have grown more complex and lasting with the effective addition of more voices and guitars.
So, what more can be said? Carole King is definitely worthy of all the premature hype placed upon her by the many critics eager to unload their journalistic vocabulary of superlatives.
Courtesy of the Door (aka San Diego Door) – Cameron Crowe –  December 23, 1971  – January 12, 1972